Friday, December 3 2004 at 23:08

Art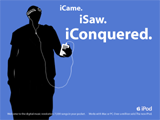 [click to enlarge]
I've been doing a number of Apple ripoffs recently, I notice...
Also, our beloved Gaius Julius Ceasar looks like a rapper in this picture. Hmm.
Yo, MC Caesar in da forum... check out these phat rhymes...
Goin' back to his roots on the streets of Rome...
comin' at ya from the south side with a def beat in his toga...
All you Gauls betta watch yo backs... 'cuz he's comin'... yeah.